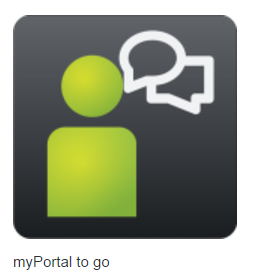 1) MyPortal to go integrates mobile phones into the OpenScape Business communication system. This gives the users access to unified communications features analogous to myPortal Smart or myPortal for Desktop / Outlook. via the mobile phone.

2) MyPortal to go controls the UC client of OpenScape UC Business directly from the mobile phone and provides access to Unified Communications Features such as presence status, directories and journals.

3) MyPortal to go can be used both on pure GSM mobile phones as well as dual-mode phones. For the use of myPortal to go on GSM devices, a mobile phone contract with data option (flat rate recommended) is required. It can be used in combination with smartphone / fixed desk phone or just with smartphone.

The mobility solution MyPortal to go is available as a web based variant, additionally to the mobile UC apps for Android and IOS. The web variant provides MyPortal to go functionality for HTML5 capable smartphones with operating systems like Windows 8, Blackberry 10 or Firefox for which no apps are available. The web based variant does not have to be installed and updates are carried out automatically.
The MyPortal to go mobile App can be downloaded from an app store and installed on the appropriate mobile device. When the MyPortal to go mobile App is started on the device, it recreates all the user interfaces locally on the mobile device.